March 5th, 2011 by Soraya Mcnally
ok, so i get a phone call from diana, who had gotten engaged last year to venz. she announces to me "we have a wedding date…".  and i think yeah, that's BIG!  she continues, "…june 25th!". and i respond "awesome, congratulations!" then i quickly grasp that she means this year – in a scant 4 months. at first i'm a bit nervous for them and then i soon realize if there is any couple that can whip up a wedding in 4 months it's de & venz!
---
September 17th, 2010 by Soraya Mcnally
i had a consultation with a super cute couple yesterday.  when they started sharing about how they met, i almost giggled. they met while working together and i think that their affections for each other must have been obvious, because their coworkers asked them many times if something was going between them. the two kept their romance a secret even well after leaving the job.
my gears are already turning. hmmm. understated. romantic. innocent.
---
April 5th, 2010 by Soraya Mcnally
so we decided that malaya & dave would go through a consultation just like  our other clients preparing for their special day.  is it going to be easier because i know her so well, or will it be more challenging?  i can imagine as soon as we start, it's going to be a flood of ideas a continuous stream of images ever evolving, the work will be in choosing THE ONE perfect idea, just like malaya and dave chose each other.
---
September 2nd, 2009 by Malaya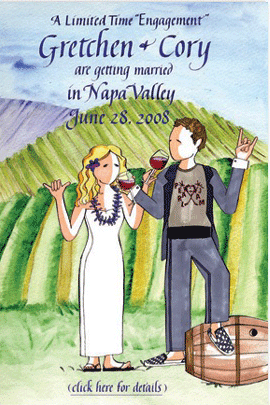 The first thing your guests will see of your wedding is your save the date, or if you decide not to send them, your wedding invitation.  These can be more helpful to you than spreading the whens, wheres, and whos.  It is also the beginning of creating the ambiance of your wedding.
Toby Simon of Savor The Date has some great examples of stationary designs that can fit all feelings.  My favorites. . . Toby's custom illustrations where she really captures the essence of the couple.
---
August 5th, 2009 by Soraya Mcnally

heather & seth are a great easy going couple.  they find beauty in everything and are open to many ideas.  since their favorite hobbies are outdoor activities. . .hiking, camping, boarding, and swimming, we are finding our inspiration for them in dahlias, a sun loving flower with a wonderful earthy and clean scent. what could be more perfect for a couple that loves to share the outdoors!
---